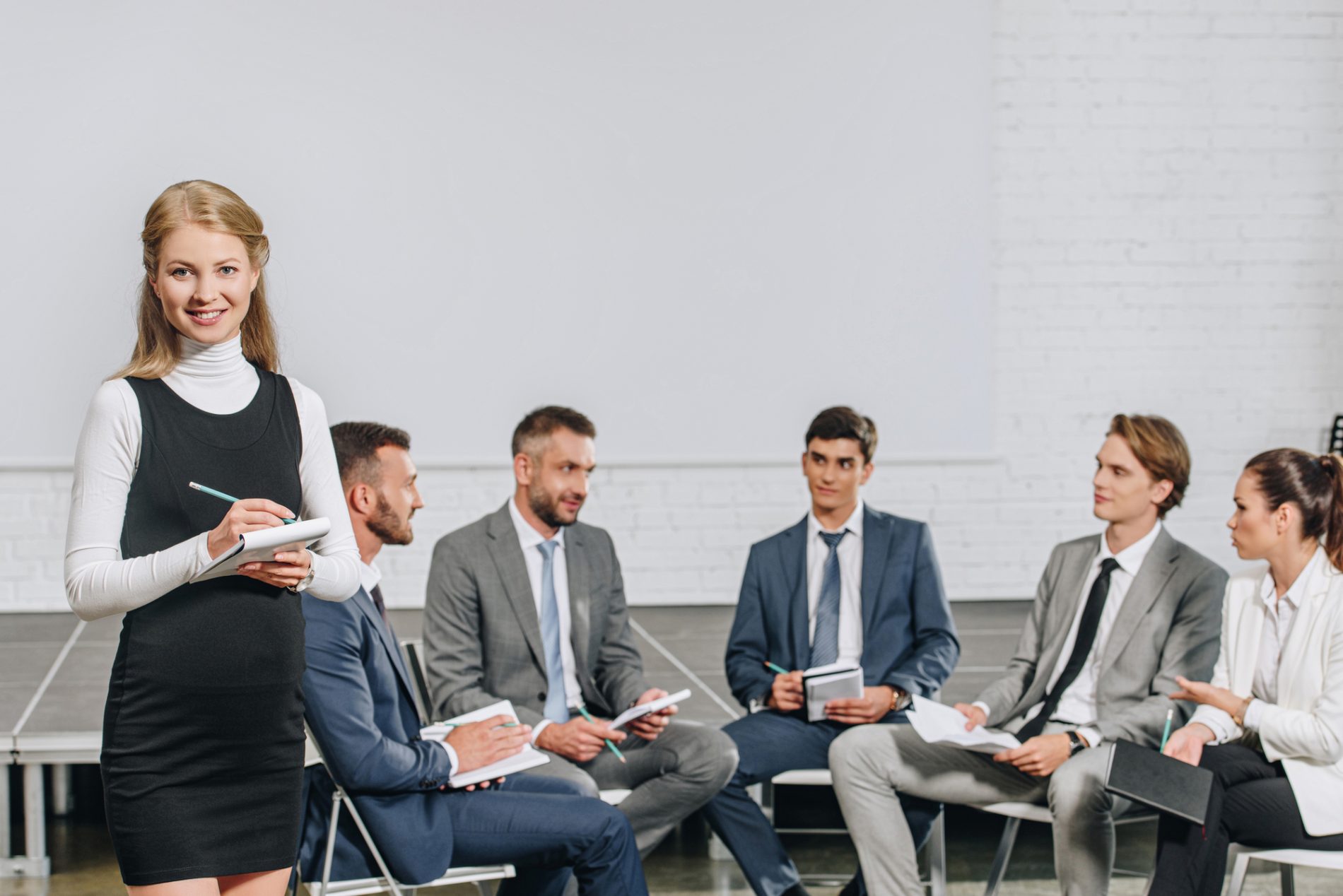 All About Business Coaching and Why It Benefits You
How long has your company been in operation? Did you recently open your doors, or have you been at it for years? Are you seeing the success you envisioned when you first opened your doors? Do you know how to motivate your employees, create excellent advertising campaigns, and stick to your goals when it comes to operating your company? If you are unsure or unenthusiastic about the answers to any of these questions, it could be that you're suffering from a lack of vision. Luckily, you have options.
Whether you run a small restaurant in your hometown or you're the CEO of an international chain of restaurants — or, of course, possess any other type of business — you could benefit from hiring a business coach. A coach can help your company get off the ground or overcome large obstacles in a variety of ways.
What Is Business Coaching?
From small startup businesses to large corporations, companies all over the world need solid business advice from time to time, and that is exactly what business coaches offer. Business coaching is a service provided by experienced business owners and entrepreneurs who want to share their knowledge, experience, and talents with others. They are often experts in their fields or industries and rather than provide generic information that could easily be found online, they focus on offering genuine information that benefits specific types of businesses. The specifics that each coach offers depend on his or her industry, experience, and preferences. The services, however, can help up-and-coming businesses, struggling companies, or anyone in between.
What Exactly Does a Business Coach Do?
A business coach provides a wide variety of services to the companies he or she offers services to. At a basic level, these services include helping businesses to develop more effective sales and marketing strategies, helping them learn how to hire better employees, and increasing organization and focus. Other services include helping build employee morale and strengthen the company culture, increasing accountability of teams and individual employees, and creating a better organization overall.
Of course, as the term "coaching" implies, a good business coach does not just bark orders but teaches team members. Rather than telling someone how to get from Point A to Point B and then leaving them to their own devices, a business coach should teach an entire team how to get to Point B so that they can do it again on their own when necessary. To do this effectively, the business coach will need to understand the strengths and weaknesses of both the business and its team members as well as understand how to uncover issues and teach methods for resolving them.
Small vs. Large Business Coaches
When it comes to business coaching, not all coaches are equipped to work with businesses of all sizes. While some are inevitably experienced with large corporations and know how to make major changes at a national or even international level, many are prepared only to work with small businesses. This is beneficial for both the company and the business coach when you consider that a restaurant in a small town or city will have a much different set of needs than an international fast-food chain, for example.
Small business coaches have specialized sets of skills that focus on teaching new business owners how to create visions and goals for their business so that they may succeed and could even become the founder of one of those international chains someday. While most large business coaches can work with small businesses as well, the same can't be said of those who work only with small businesses. One thing is for sure, though: No matter the size of the company, the coach must be ready and willing to learn everything he or she can about the company and the owner in order to develop a truly unique strategy and see the desired results.
The Business Coaching Process
As with any learning situation, business coaching follows an organized process from the first thought of hiring a coach to the final meeting. Each step is meant to have its own benefits, although it is important to note that the steps and benefits may vary depending on the coach's teaching style and the type of business you own.
First, there is the process of preparation. During this stage, the coach speaks to you about your business goals, your industry knowledge, and your current abilities. He or she will ask questions about your problems and what you hope to accomplish by hiring a coach, as well as how much time you have to dedicate to the learning process, your limits, and what you hope your outcome will be.
Next is the contract step. During this step, you can smooth out the details of your pending contract, including doing paperwork, settling finances, and determining the answers to questions such as who will participate in the coaching meetings, which roles and responsibilities the participants have, and how long the coaching process will last.
After everyone signs the contracts, your coach will schedule the start-up session. This session is typically the longest and is used to establish how the remaining sessions will play out. During the start-up session, your coach will begin to establish a relationship with you, help you learn what to expect, and answer any questions you have. This is also when you will schedule regular coaching sessions.
Regular sessions include an established routine, just like most traditional classroom settings. Although the established routine will vary depending on your specific situation, it may include one or more of the following:
Time – A standard start time is a good idea so that everybody can plan their workdays around your coaching session.
Format – Each session will have a basic format, even if it focuses on its own specific needs. This could mean meeting in the same room or starting with a question-and-answer round.
Style – Your coach will have his or her own style of teaching you, but it should remain constant. If you prefer something more casual than formal (or vice versa), be sure to indicate this before you hire someone.
Finally, you will have a final session with your business coach. During this last step of the process, he or she will meet with your company's participants for a longer period of time to answer final questions, assess your progress, determine whether additional work is necessary, and consider your future goals. If necessary, your coach may suggest you extend the contract to further your progress. The final session may or may not include the wrap-up process, which is when the coach will tie up loose ends and answer final questions.
After the wrap-up, the coach may provide post-coaching, which is to follow up with you and ensure you are staying on track. This is also when you can provide feedback so that your coach knows how he or she can improve the process for future companies.
The Cost of Hiring a Business Coach
Naturally, you will want to know how much it costs to hire a business coach, especially if you run a small startup and are on a tighter budget than some of your competitors. The short answer is that it varies. However, the longer answer is that business coaching costs anywhere from $75 to $500 per hour. The exact price depends on quite a few factors, including the type of coaching you want, the size of your business, your industry, and whether you are choosing to have coaching online or in person.
Some business coaches also offer monthly prices that are up to $2,000 per month or even packages that range from $1,000 to $2,500. If you feel that your business needs more help than average, these are probably better options than an hourly rate that can add up quickly. Monthly packages, which consist of two to four sessions on average, can save you up to 50% off hourly rates. Some business coaches will even provide discounts if you pay in advance.
The Benefits of Using a Business Coach
Naturally, when you are spending hundreds or thousands of dollars, you want to know how it will benefit you. Hiring a business coach does so in several ways. For one thing, you will receive personal attention for your company from someone who knows your industry better than any other. They will focus on you, your employees, and your end goals during every session to ensure you get the most for your money.
Of course, during your business coaching sessions, you will learn how to take your excellent ideas and turn them into actionable goals that turn into true profits. This means learning where to start, how to evaluate progress, and how to implement plans for more achievable successes.
Working with a successful business coach can also afford you better networking opportunities. A business coach may provide you with information on complementary businesses so that you can offer services together or simply put you in touch with other successful entrepreneurs.
Finally, business coaching means the opportunity to make more money in the future. When you learn how to operate your business with more self-confidence and with more focus and organization, you create a streamlined process that leads to efficiency and better sales, meaning more money in your company bank account.
How To Hire the Best Business Coach
Now that you understand why business coaching would be so beneficial for your company, it is time to start the process of finding a coach who can help you meet your business goals. Before you start contacting candidates, though, you should consider whether you want to work with someone in person or if you'd be willing to hire a virtual coach. Keep in mind that local coaches can be more successful if you tend to need a lot of direction, but virtual coaches often have better scheduling hours and can work around your needs.
Once you decide which type of business coach you would rather have, you can begin talking to people. Find someone who makes you feel comfortable first and foremost. After all, you will be opening up to this person about your business goals, including any concerns you have about how you currently run your operations. You will also want to ask about how your potential coach works, such as whether the environment is casual or formal and whether they are interactive or run their classes more like a lecture. Finally, seek out people who share your long-term visions for your business. You will not be able to meet your goals if you do not find a coach who thinks they are attainable.
Don't forget to look at the data, too. You will want a business coach who is experienced in your industry. If you run a restaurant, someone who mostly knows about business-to-business contracting probably isn't going to know much about creating a better menu to bring in new patrons. Consider the coach's track record as well. Has he or she had successful businesses? Do former clients feel they learned a lot from your candidate? You want someone who will listen to you and help you achieve success but who does not mind telling you when and where you need to tweak your business model.